We offer a variety of shows featuring a combination of other celebrity impersonators suitable for corporate or private party entertainment.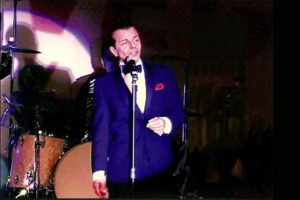 "MY FRANK TRIBUTE"
This Frank Sinatra look alike, celebrity impersonator tribute show spans the six decade career of the "Chairman of the Board" with lots of laughs between the songs. "Old Blue Eyes" has been a vocal influence for over half of the last century, from the Big Band days through the Rat Pack nights and beyond. This Frank Sinatra tribute act is a hit with talent bookers
and event planners.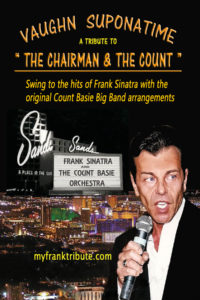 "THE CHAIRMAN AND THE COUNT"
A different kind of Frank Sinatra Tribute show. Nothing says "Las Vegas" more than the hits of Frank Sinatra with the great Count Basie Orchestra. Using the original arrangements of Quincy Jones and Neil Hefti, this Big Band Tribute show is perfect for corporate events and big party entertainment. A tribute to a swinging era, when Las Vegas had its royalty and they partied all night. *Party planners, entertainment bookers and talent agents note, this show requires a big band.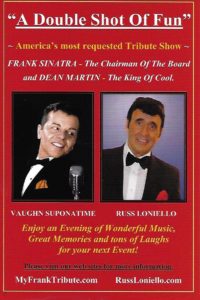 "A DOUBLE SHOT OF FUN"
Frank and Dean are at it again! Frank Sinatra and Dean Martin are on the menu for this celebrity impersonator show. The boys are back clowning, singing and drinking their way into your hearts and liver. Anything goes when these two tribute artists get together for corporate parties and special event entertainment, as they engage with the audience and sing duets from their movies and the classic Dean Martin TV show.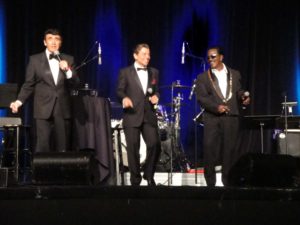 "THE RAT PACK"
Break out the cufflinks! The Rat Pack will bring the spirit of Las Vegas to your corporate event or private party when Frank, Sammy and Dino work the room then, take the stage. America's top Dino & Sammy celebrity impersonators join Frank for this party. Anything goes when this trio turns each show into a Las Vegas casino happening.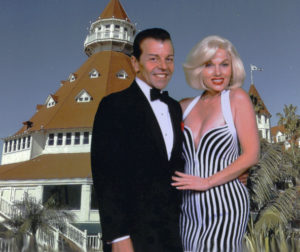 "HOLLYWOOD UNDER THE STARS"
This tribute to the "Golden Age of Hollywood" is well represented by Frank Sinatra and Marilyn Monroe in this celebrity lookalike show. This special event will add glamor and excitement to your corporate or private party as Frank and Marilyn mix and mingle with your guests then, take the stage to perform solo and together. Great party entertainment!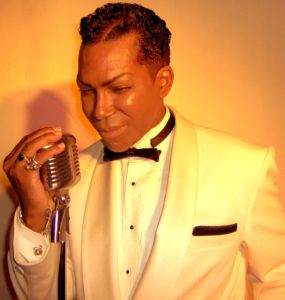 "FRANK AND NAT … A 'CAPITOL' IDEA"
The Capitol Records building in Hollywood California was also known as "The House that Nat built". That's how influential were the recordings of Nat "King" Cole. And after Frank Sinatra joined the label, Capitol became a powerhouse for celebrity singers.
Darrell Cole is America's foremost Nat "King" Cole tribute artist. In his celebrity impersonator show, he is a "dead ringer" and sound alike for Mr. Cole. Together with Vaughn, these two celebrated tribute artists invoke an era of great music and songs that is perfect for corporate entertainment, private parties, fundraisers or retro lounge special events.
*All shows can be performed with a live band or to digital tracks.
** Availability of these shows are subject to the availability of specific performers.